M
asopust
Pre-Lent Carnival (Czech-Style Mardi Gras)
2015
February7th - 9th Annual Masopust 2015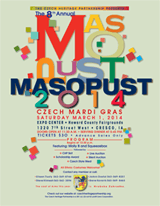 This annual Czech Mardi Gras will be held at the Expo in Cresco, Ia. Malek's Fisherman Band and the Domaci Czech Folk dancers will perform.
Malek's Fisherman Band is one of the finest polka bands in the Midwest; and continues the great tradition of dance music excellence started by Syl Malek in the 1930's with Malek Bros. Accordion Band. The modern Malek's Fishermen Band plays a wide range of dance music that includes the traditional old tyme polkas, waltzes, two-steps, and schottisches as well as country, big band, dixieland, and other dance hall favorites. Visit their website for more details: www.maleksfishermen.com.
The Domácí (Hometown) Czech Folk Dancers started in 2000. Their mission is to preserve Czech customs and traditions through music, dance and song. They promote this through dance performances done with precision, accuracy and enthusiasm. The costumes (kroje) are imported folk dress from southern Bohemia, where the majority of the communities' ancestors originate. The choreography is modeled from traditional dances and performed to authentic Czech folk music. The authentic folk music includes instruments native of the Czech Republic as the dudy (Czech bagpipe) and the dulcimer. Viisit their Facebook page for more information: www.facebook.com/DomaciCzechFolkDancers
Click here for 9th Annual Masopust event poster with details.
Masopust 2013 (February 9th, 2013)
view event poster
Masopust 2012 (February 18th, 2012)
view event poster and picture gallery
Masopust 2011 (March 5th, 2011)
view event poster and picture gallery
Masopust 2010 (February 13th, 2010)
view event detail and picture gallery
Masopust 2009 (Februaty 21st, 2009)
view event detail and picture gallery
Masopust 2008
view event picture gallery
Masopust 2007
view event picture gallery
For More of Masopust in general, visit this link:
www.myczechrepublic.com/czech_culture/czech_holidays/easter/masopust.html